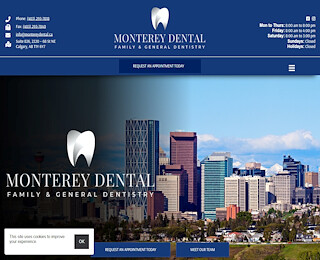 Monterey Dental is your trusted full-service NE Calgary Dentist. Welcome to the multi-ethnic NE Calgary Dental Centre that offers a wide range of dental services to the community. Monterey Dental speaks English, Urdo, Hindi, Punjabi, Gujarati, Spanish and Cantonese to better serve Calgary. Make a new patient appointment by calling 403-293-7818, and let Monterey Dental become your family's full-service Dental Centre.
Bonnie Doon Dental Associates is proud to provide Invisalign in Edmonton for patients thinking about having their teeth straightened. Invisalign's nearly imperceptible aligners are the #1 preferred choice in braces. Learn more about clear aligners on our website or by scheduling a consultation with our staff to discuss your goals.
Bonnie Doon Dental Associates
Finding an emergency dentist in Sherwood Park may not be as simple as it sounds. If you're experiencing a dental emergency, make a call to Park Mall Dental Centre at 780-570-8272 for prompt, professional attention. If you're uncertain as to whether your situation is an emergency, just remember this advice: if it hurts, it's an emergency.
Messages sent using this form are not considered private. Please contact our office by telephone if sending highly confidential or private information. Please review our privacy policy and website terms of use prior to submitting your form request.
If you require emergency assistance, please call our office at 403.293.7818 for further instructions.